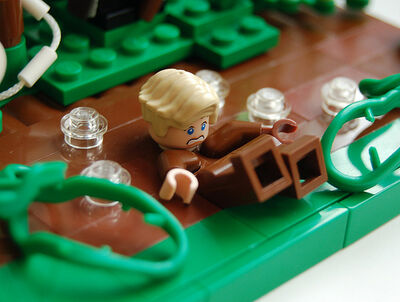 I am Augustus Gloop and I Love Your Chocolate
Edit
Augustus Gloop is a playable character in LEGO Charlie and the Chocolate Factory video game.
He appears firstly in the Willy Wonka arc in Chapters 2-4.
Then in the Charlie Film arc in the same numbered levels.
Augustus Also whn coated in the chocolate of the waterfall can increase all his heightened abilities such as chocolate wall eating, ball rolling( Charlie Arc Only) & more.
I Taste something that is not chocolate
Edit
Augustus Gloop has different abilities and wekanesses depending upon his two forms in the movie arcs.
Augustus can control the Strawberry Squirt Candy, Chocolate River Repellers and can unclog areas by slipping into small chute pipes.
He is played alongside Charlie Bucket, Mike Teavee, the Oompa Loompas and Mr. Willy Wonka.
He can also serve as a systematic platform on liquid lakes made entirely out of chocolate.

| | |
| --- | --- |
| Wonka Mobile | No |
| Great Glass Elevator | Only usable in Free Play Chocolate Room |
| The Sea Horse Candy Boat | No |
| Wonka Candy Pogonator | Yes |
| Wonka Flyers | Yes |
| | |
| --- | --- |
| Exploding Candy | No |
| Wriggle Sweets | Yes |
| LollyDoodle Punch | Yes |
| Candy Cane Bomb | No |
| Control Cane | No |
It's Going to Cost Him Alot
Edit
Augustus is first lucky finder of Wonka's Golden Tickets enabling you to explore his factory for one day.
Augustus if from Dusseldorf, Germany(pronounced "doos-ul-doorf) where he is the son of a gluttinous pork butcher.
Augustus also overconsumes and causes a little trouble on his tour inside the amazing factory.
Unlock over 100 silhouettes from the chocolate suit to a red candy cane ensemble.
Unlock Oompa Loompas and hidden vehicles for him.
Create over 100 candy concoctions only for Augustus.
And experience an overweight boy's troubles in LEGO Charlie and the Chocolate Factory.