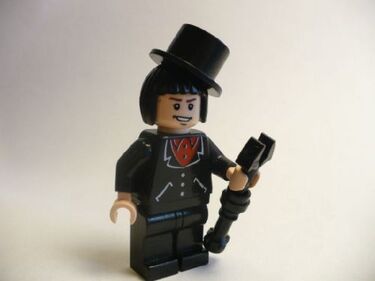 Mr. Willy Wonka
Edit
Willy Wonka is of the 3 main playable characters in the exclusive upcoming Lego Video Game adaption of Roald Dahl's second novel and their two film adaptions.
He appears in all chapters of all story arcs in cinematics and most as the playable.
His Hat is also a formidaable weapon as he can dettach and throw it with its razor sharp edge, similiar to the the style foretold of Oddjob in upcoming LEGO Bond.
Willy Wonka can over command the oompa loompas over Charlie Bucket and has all the candy abilities the the children and their guardians discover. Also automatically operates all the vehicles the other characters must unlock.
| | |
| --- | --- |
| Wonka Mobile | Yes |
| Great Glass Elevator | Yes |
| The Sea Horse Candy Boat | Yes |
| Wonka Candy Pogonator | Yes |
| Wonka Flyers | Yes |
| | |
| --- | --- |
| Exploding Candy | Yes |
| Wriggle Sweets | Yes |
| Lollydoodle Punch | Yes |
| Candy Cane Bomb | Yes |
| Control Cane | Exclusive ability to Wonka |
I Must Find an Heir
Edit
Wonka's hunt for an heir to his factory is the generator for the crazy candy adventure and his crazy concoctions dont end with the story.
Unlock over 100 silhouettes from Kamono to Delhi and more.
Unlock hidden vehicles and oompa loompas fro his command.
Create over 100 candy concoctions with the candy culinary wizard.
And experience the fun of LEGO